Mama Melrose Review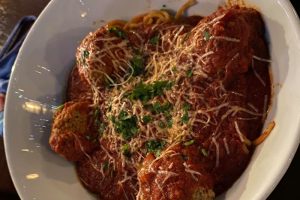 Mama Melrose experience:
All restaurants are operating as much as possible via digital methods such as making reservations, checking in for reservations and menus. Temp checks are now also required at check in. This is an extra step newly added. Even if you have had your temp checked prior to park entry or Disney Springs, you will still need to repeat this process for dining locations. The digital system will only allow for a check-in no more than 15 minutes prior to reservation time. If you want to try to check in earlier, you will have to ask the hostess. If you would like a physical menu, you will need to ask for this.
Salt & Pepper shakers are not available at the tables. You will have to ask for this.
Tables are marked off to help create social distance between families/groups.
We had a great meal here. I love the atmosphere – it is so relaxing and intimate. I was craving a steak which is why I chose this dining location. It has a good meat cut at a lower cost than many other dining locations. It is still pricey; it is still Disney! My partner had the Spaghetti and Meatballs. This was a HUGE helping. 4-5 meatballs and huge bowl of spaghetti. I wish I had just shared the meal. It would have been a great meal and a great budget for us! My steak was good but not quite as good as previous ones I had there. My other experiences here have also been great!
I planned to splurge for this meal, so I did get the Cannoli for dessert! It says it had a citrus flavoring. It definitely does. This is not my favorite for this dessert, but it worked in this case. It added a little lightness to it, a cleaner after taste.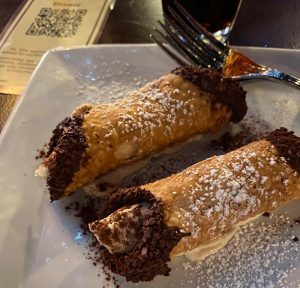 Watching the staff here, the table settings are well cleaned! On my previous dining experiences, I could easily account for a full hour or a little plus but this meal, we were done by 4:30. It only took 50 mins from sitting down, enjoying our meal, paying our check and walking out.
Posted by Jamie Dotson.