Hollywood Studios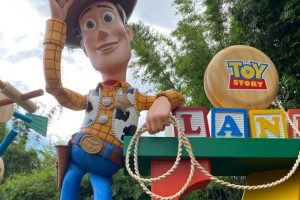 Finally, back at Hollywood Studios since it's re-opening!
What a fantastic day!
Current park hours are 10am-8pm
Let me start with, we planned a relaxed touring day yet still with goals. I wanted to take advantage of lower crowds and take some pictures or just walk/relax.
I find it best to have access to the Skyliner for arriving at this park due to operations are currently running via other arrival modes. (see arriving at the parks blog HERE).
The Disney Skyliner starts operation 1 hour prior to park opening. We entered the line right at 9am and there was already a good size queue. It moved very quickly though! We made it to the Skyliner grand station at 9:15am – this is a location where you need to switch lines; EPCOT, Hollywood Studios or Riviera Resort. We arrived at Hollywood Studios at 9:27, went through Temp check, Security and scanned our bands at 9:33am!
Since this park houses the newest and currently most popular attractions; Rise of the Resistance (ROTR), Smugglers Run, Mickey & Minnie's Runaway Railway (MMRR) and Slinky Dog. These tend to have a hefty queue wait even with the lower park capacity. If the majority of the limited capacity guests are targeting these main attractions, it is easy to understand the 45-60+ minute waits.
We headed straight to MMRR. I have to say, this is actually my top 3 ride experiences! It has everything I love about Disney in it. Started our queue at 9:38am, boarded at 10:05 and exited 10:15am. This was a tad tricky! At 10am, the boarding groups for Rise of the Resistance opens at 10am (official park opening hours). The boarding Group is a virtual queue to enter if you want to enjoy this attraction. It can fill extremely quick. I secured this while waiting in line for MMRR.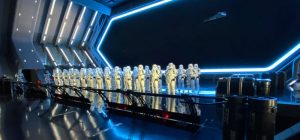 We secured a boarding pass for ROTR but it was 38. The APP will now provide an approximate time until your boarding group opens. One thing to keep in mind with this, the time is not accurate. It is usually longer. Just keep an eye on the wait to make sure you plan accordingly. Once your boarding group is opened, you will receive a notification. You have 1 hour to check in for the boarding group. If you fail to check in, you do forfeit your place.
We decided to head over to Tower of Terror post runaway. We knew the majority of the crowd was already in Toy Story land or in queue for MMRR. Sadly, when we got over to Tower, it was not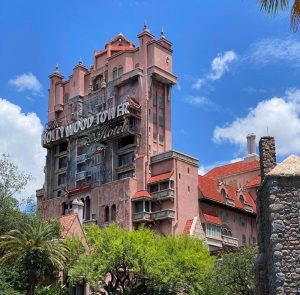 working yet. This can happen. We decided to get coffee instead (Joffrey's located at the exit of Tower).
Rock 'n' Roller Coaster was operational, but I just can't ride this ride anymore. It kills my neck (I have a very bad neck and sadly, causes me motion sickness in my advanced age—getting old sucks!) I really LOVE the ride however! I will push through it at times depending on my body! This was not the day!
Onward we go, on to Toy Story Land! Now, the Slinky Dog Dash coaster had a LONG queue. It started basically at the entrance to Tory Story Land where Woody stands. My travelling partner for the day is not a huge coaster fan. For our plans, we decided to not bother with this. I enjoy this attraction, but it is not my favorite. It has been holding a steady 45+ queue time. In consideration with the previous norm wait times, it is not bad at all. It also looks as long as it previously did but that is only due to social distancing measures.
We went on to Toy Story Mania, entering the queue at 10:33am and off attraction by 10:49am. Alien Swirling Saucers was our next ride, getting in queue 10:56am and off of ride by 11:12am. Now, for both attractions the posted wait time was 30 min which was not accurate. Majority of posted times are more than actual wait times. I think it is best to consider the posted time however since it could easily be that time. An attraction cleaning will come up intermittently causing the time to really jump.
Time for lunch. Not all the quick service locations are opened yet. We decided on Backlot studios for our lunch. We had an early table service reservation. We didn't want to eat our lunch too late or even have too heavy of a lunch so that we could fully enjoy our dinner. We also decided to share our lunch. We planned to split a chicken finger order, added an extra fry order and two drinks. It helped cut our cost. We ordered, picked up and finished our food by 11:41 (CLICK HERE for my experience on quick service mobile ordering)
Backlot Studios sits right next to Star Tours so we headed there! We entered queue at 12:17pm and exited attraction by 12:51. I get motion sickness on this attraction as well. I requested to sit in a back-row section if possible. They placed me in the middle. It was better than the front.
Now it was back to Tower of Terror! We entered queue at 1:05 and exited the attraction by 1:30.
Now, we really enjoy Icees (coke, raspberry, or cherry original style) but apparently this is currently a luxury. We could only find one place in Hollywood Studios and one place in EPCOT that was offering them. After checking our ROTR boarding group, we had at least a 60-minute wait. We decided to kill this hour re-experiencing MMRR! We entered the MMRR queue at 1:53pm and exited out of attraction at 2:40pm. This was perfect timing since we received notification our boarding group opened as soon as we exited! Now, on to Galaxy's Edge to check in for ROTR!
We checked in for ROTR at 2:44pm by scanning our bands at the queue entrance. We exited the attraction at 3:24pm. An easy misconception to the virtual queue boarding pass is that you get to instantly board ROTR attraction similar to how a fast pass works. How it truly works, the boarding pass holds a large group of guests virtually and assigns groups to entry time. These groups can all enter the queue. It is still a large group, therefore there will still be a wait. The wait average pre-covid was an hour. It was still pretty close to that under the operational guidelines.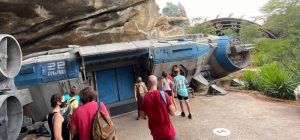 It started sprinkling and we were close to Mama Melrose, our dining location reservation. Our reservation time was for 4:05pm but we arrived 30 minutes early. The new guidelines have your scan the QR code located outside the entrance to check in for your dining. The digital operations does not allow for a check in earlier than 15 minutes which can be a hiccup. The staff saw me trying to check in and came out to check on me. I explained my hopes to check in early if possible but pointed out the system won't allow it. I was completely fine if they were unable to check us in early especially with operational guidelines. I also believe in the philosophy that it never hurts to ask. The hostess went in but came back out to get us! They were able to check us in early! We were seated at our table at 3:40pm! See my review of Mama Melrose.
At this time, we had completed all we wanted to. We skipped Slinky Dog, Rock 'n' Roller Coaster, Muppet 3D and Smuggler's Run. We wished Frozen Sing-along was operating but it is was not opened yet during our visit. I am not a huge Star Wars fan however I can greatly appreciate the artwork/design of Galaxy's Edge. There is so much here to enjoy and look through. Smuggler's run is a dud to me. I enjoyed it for the layout design and appearance. The ride itself is too simple in my opinion. I respect it for the design and a fan's love of it. It is just not for me.
We decided to enjoy Toy Story Mania and Alien Swirling Saucers one more time before heading out. Walked into Toy Story queue at 4:39 and exited at 4:54. Entered Alien Swirling Saucers queue at 4:56 and exited at 5:08.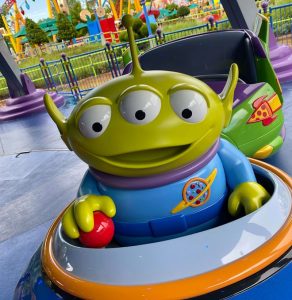 Walt Disney Presents is opened so we went for a look through in there at 5:13!
We completed our time at the park, exiting at 5:36 heading to the Skyliner. We had contemplated doing MMRR again but the wait was still holding strong at a 60 min wait. The option to enjoy our resort was much more appealing! Our room was perfect for relaxing and then we hit the pool/hot tub at 6:53pm.
What a great productive day!