Mickey and Minnie's Runaway Railway Review (MMRR)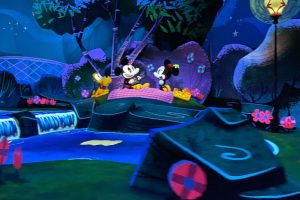 MMRR—what a great attraction! It is just simply amazing! Join Mickey and Minnie in their cartoon land! I have never seen such a great digital mapping that submerges you directly into an experience like this ride does.
There is no pre-show currently for the MMRR. The room you enter to watch the quick cartoon is still used as a queue. Instead of watching the show and seeing the fun rip in the screen, you just walk directly through it. This of course could always change any day! I did see they placed markers within the room for social distancing if they did utilize it. There are actually two pre-show rooms to hold guests if they do re-open. For a Normal attraction experience, a set number of guests will enter a theatre room. A short preshow plays on the screen to set the story for the attraction. A mishap occurs and the screen blows up creating a walkway from the theatre room leading you back into a queue which is the station house for the train.
You board Goofy's train for a fun scenic tour of their happy land! There is an engine and 4 loading carts to hold guests. Each cart has 4 rows and each row can hold 4-6 guests. They could probably squeeze more in but it would not be the most comfortable. Luckily with the current operational phased guidelines, they are limiting guests per cart. Each section is completely independent and moves along a magnetic track. I have sat in each section and I believe I enjoyed the 3rd section the best. Each section can offer a slightly different experience. While entering a room, the scenery can change by the time the last cart enters. With this in mind, the last cart can see more of the new changed scene while first cart is already headed into next room. Things will be missed in each of the 1st or last cart. I highly recommend enjoying this ride as many times as you can just so you can really see everything within each scene. SO MUCH CUTENESS. The train carts do shift, move around and end of changing order. This also creates slightly different experiences entering and exiting each room/scene.
For the Waterfall scene! I finally saw how this was done. Each cart separates and goes into it's very own small room, sort of like a garage. This affect has Full digital mapping surrounding just your ride cart-my very favorite part! Once done, your cart backs up and gets back with the other carts. IN the end, everything wraps up perfectly as you head back to station!
Post by Jamie Dotson.