Magic Kingdom Park Review During Re-opening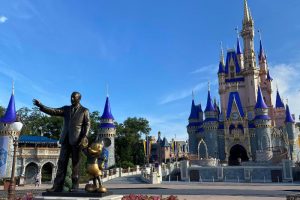 Magic Kingdom Park review under Re-opening!
Current Hours: 9-7
Please keep in mind things will be changing continuously so please double check recommendations or updates.
Please CLICK HERE on my review for arriving to the parks and what to expect!
We decided to drive into the park for this day. It was free parking since I am a pass holder and we were staying at a Disney Resort.
We left the resort at 8:50am, went through Parking system (no parking lot trams currently), temp checked, security check and boarded Monorail to take us to Magic Kingdom. We exited Monorail, scanned our bans to enter parks and were on Main street by 8:41am.
What an amazing opportunity this was to walk around the park first thing in the morning with a lower crowd. I was able to take the time to really look at some details that are easily overlooked. Every little aspect in fine detailing creates the masterpiece that is Magic Kingdom! Without these, it would just be another basic park.
I was able to take some beautiful pictures of Main Street! Don't be too fooled with all the empty park pictures. Guests do continue to trickle in all day long and many don't leave. Take the early morning time to take the pictures as you can without as many guests in the background!
Our typical touring plan always starts in Tomorrowland. We boarded Buzz Lightyear Space Ranger at 8:53, sadly I did not win against my competitor. Space Mountain was next (all by myself! Boo) – so worth the ride-entered queue at 9:03 and was off by 9:11. There was no wait at all. Some of the sound affects within the attraction were missing but it was minimal. An average guest probably wouldn't even notice.
9:15 it was time for Tomorrowland Speedway! I got to be the passenger! Who doesn't love to be chauffeured around? I was able to take some pictures and look over at the progress on the new Tron Coaster! Sadly the People mover, Tomorrowland transit authority is currently down. Boo. We also skipped the Astro-Orbiter. I felt the safety precautions were well laid out, I just have a personal issue getting in the elevators to get to the attraction. It is very rare I ever ride this.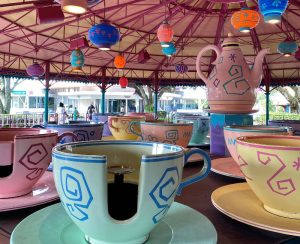 It is fun and you can get some great park overviews from it. It is like a Fast Dumbo except with rockets!
Mad Tea Party / Teacup Time! 9:23 we entered the ride! Is it just me or does everyone get excited to pick out their favorite colored teacup?
Many Adventures of Winnie the Pooh, 9:32 entered queue and basically walked on! So many Disney Debates! Which part is your favorite? Bouncing with Tigger or enjoying the rain?
Prince Charming Regal Carrousel, got to ride at 9:45. I saw Cinderella's Pony but sadly could not get to it! So, on this attraction every other row of ponies is marked off. The rows in use are marked on the outer side with a number. You are told what row number to go to. There are 5 ponies to a row. Such a beautifully crafted timeless ride. I was so glad the kids were not with me. They are too 'grown' for it.. so sad!
9:54 Time for Peter Pan, I always have to visit Neverland. I never want to grow up and at least at Disney, I never have to! I was so glad the standby queue was open. I previously would, without fail, obtain a fast pass. I love the standby queue. Since they re-did this queue 4-5 years back, it has become part of the attraction itself. You get to go inside the Darling home, visit the nursery and watch Tinkerbell cause mischief! SO many fun little things to spy if you take the time to look! Beautiful artwork made here.
It's a Small World, 10:07am. I will always ride. On to Haunted Mansion! 10:30am The queue looks daunting but is not bad at all! Guests were properly spaced out for social distancing. While going through this queue, look at all the design details put into it. There are so many hidden stories inside this queue.
Time for Lunch! Sadly Casey's Corner is not open yet. Cosmic Rays is offering two hot dog choices to help out with that Casey's craving! We did our mobile ordering and enjoyed some air-conditioned quiet mask free time!
11:55am we felt it was time for a great refresher of good spirit at Hall of Presidents! It did not disappoint. We were so lucky, they just opened the theater doors when we walked into main entrance museum holding room.
Now off to Adventureland! Board The Magic Carpets of Aladdin 12:29. We thought we dodged that spitting camel until he got us right when ride was finishing up! That silly camel! On a hot day, I welcome it!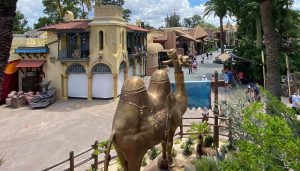 It would not be a Magic Kingdom day without experiencing The Jungle Cruise! 12:39 entered the queue for it! It was amazing, I even got to see the backside of water! Where else can you see this?
Our next adventure was Pirates of the Caribbean, entered the queue at 1:09. I will never stop loving this ride, even if they decided to sell chickens in it.
Time for a little exercise, we climbed The Swiss Family Treehouse – went through entrance at 1:51. This place provides some great views over the park, fun detail enriched settings and a little nostalgia!
1:59 entered the Enchanted Tiki Room queue. A great place for some fun Sherman tunes and air conditioning.
Time for a snack break!! We needed something to cool us off; a water and a frozen fruit bar! YUMMM
Off to Frontierland! We entered Big Thunder Mountain Railroad at 2:36pm – there was a 60 minute wait posted but we were off the ride by 2:49
We entered Splash Mountain queue at 2:51, the wait time here was more accurate. We exited the ride at 3:42.
Yes, another snack was desired!!! Disney and Snacks just goes hand in hand! Just about everyone loves Sleepy Hollow! This place is always popular breakfast, lunch, dinner and everything in between time! Here is where you can get the famous chicken waffles, Giant Mickey waffle and simple but delicious funnel cake among many other things.
It is time we finished up Fantasyland! We had previously completed the original Fantasyland but never did the New Fantasyland. 4:16 we entered the queue for Journey of Little Mermaid, Under the Sea, 4:30 entered queue for Dumbo and then entered queue for 7 Dwarf Mine Train at 4:39pm (exited the mine train at 5:17 which is seriously NOT a bad wait at all for this attraction). We did skip Barnstormer. I actually love this coaster. It is so cute and fun.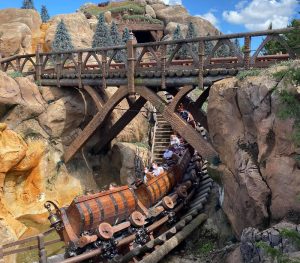 The downside to this coaster is that it is so incredibly short! Since I was not with a coaster buddy, I passed it. It would have been a true walk on – no wait at all.
I saved the best for last, the Carousel of Progress! I never mind having this stuck in my head, It's a Great Big Beautiful Tomorrow!!! Entered the standby 5:30 and off by 5:58. This show has 4 scenes that the theatre rotates through! So it is a lengthy attraction considering. Make sure to keep that in mind with touring plans.
Time to browse the stores on Main Street. Now this is a tad tricky and hopefully changes soon. Majority of the stores are connected. Under the phased re-opening operations there are capacity limits to the stores as well. To control this, they controlled the entrances and exits of these stores. Basically, there is only 1 entrance to the section of stores, but all other doorways are exit only. This can be a tad frustrating in finding the single-entry way. The Grand Emporium and it's connecting stores Main (and only) entrance is at front corner of Main street. For the shops on the right side of the Street such as Pandora, Art of Disney, etc, the Main entry is through Pandora store. The Confectionery entrance is off Main Street Hub street, the one facing the Train station. This one generates the longest wait from my observation-Because we all love sugar! Just be mindful and prepared to watch for this.
We finally left the park at 6:22, boarded the monorail to return to the transportation and ticket center/parking and was back in the room at 7pm.
All in all is was a fantastic day. We never rushed to any location. I was able to snag some great pictures! It was almost like times we used to go before everything had to be so planned out. It was great deciding what we were doing while there in the moment. We enjoyed the park fully.
We still had plenty of time to relax back at the resort which is exactly what we did; quick service dining, pool and relaxation.
Posted by Jamie Dotson.